Woodharbor Doors have officially been rebranded TruStile Doors. In February of 2011, Woodharbor Doors was purchased by TruStile Doors and has been operated by TruStile as an independent company with its own set of products. The two companies are now fully integrated and Woodharbor Doors is now part of TruStile Doors.
Specifically, the Woodharbor Stain-Grade Wood Door product is now branded TruStile and is part of the TruStile product line-up. It is the same great product that you know and trust, with more options than before and backed by TruStile, the nation's leading manufacturer and brand of premium made-to-order architectural stile and rail doors.
The existing TruStile Stain-Grade Wood Door product is now rebranded TruStile Reserve™. This gives you two distinct product choices for stain-grade doors under the TruStile brand — TruStile Wood Doors (formerly Woodharbor) and TruStile Reserve Wood Doors.
What this Means for You?
TruStile is not your typical door manufacturer. We are laser focused on making the highest quality stile and rail doors with the most design choices and options. Choose from TruStile MDF, TruStile Wood and TruStile Reserve Wood.
Why three construction choices? Because you want the perfect design at the best value to match the application. From a pair of decorative glass doors to sound-controlling theater doors, we've got your design-driven solutions.
TruStile Wood Doors, formally known as Woodharbor Doors
Made in the authentic stile and rail manner, TruStile Wood Doors (formerly Woodharbor Wood Doors) use a premium mix of materials that exceed industry standards for a natural look. It is the same product that you are familiar with, now with the power of the TruStile brand and with an expanded set of door styles and options.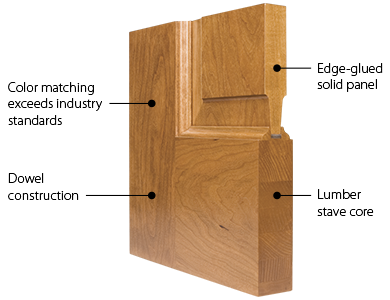 Parts are sorted and QA tested into a premium mix of components that exceed industry standards. All components are blended for color and grain pattern matching.
Edge-glued solid wood panels for a premium look and feel. 3⁄4″ thick panels on standard and 1-1⁄8″ thick panels on B series.
Traditional dowel construction creates a solid joint.
An engineered stave lumber core is cut to size and face-glued with alternating grain patterns, which balances the core and reduces wood's natural tendency to move.
TruStile Reserve™ Wood Doors
Engineered to the highest quality, TruStile Reserve Wood Doors (formerly TruStile Wood Doors) blend the latest technological advances with the most stringent visual appearance standards in the industry.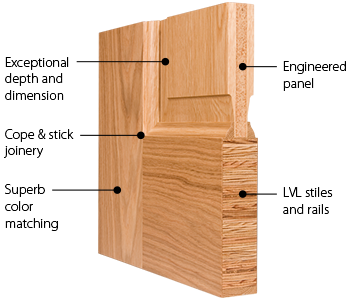 The TruStile Reserve series incorporates only the finest materials and methods. We have developed a proprietary specification that exceeds the AWI (Architectural Woodworking Institute) standard for AA premium-grade doors
Engineered panel made with a composite core for strength and stability while maintaining the look of solid wood panel construction.
Precision-cut cope and stick joinery for a meticulous, uncompromising look.
The strength and durability of LVL is employed for the ultimate in stiffness to resist bowing, twisting or warping.
TruStile MDF/Paint-Grade Doors
The best possible door for painted applications, TruStile MDF/Paint-Grade Doors use only super-refined MDF, providing unrivaled smoothness and finishing.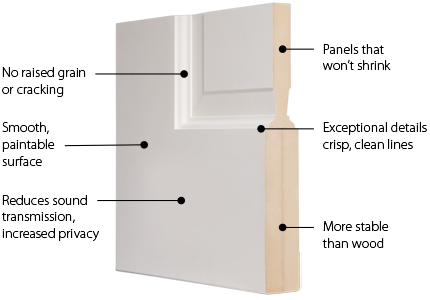 Made to order and built to any size and style.
Built with genuine stile and rain construction — never routed or stamped.
Solid, super-refined MDF provides a smoother painting surface than pine, poplar or lower-grade MDF alternatives.
Engineered for maximum stability and durability — won't shrink, expand or warp when exposed to environment.
More affordable than wood doors.
Third party certified by Scientific Certification Systems to contain 69% recycled content, making them ideal for green building.