Resilient™ Wood Entry System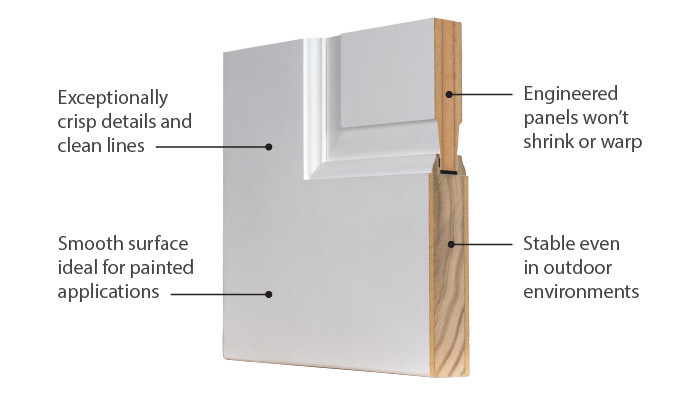 The Resilient Wood Entry System sets the tone of quality for the whole home using the most durable painted construction without sacrificing any design options.
Engineered with resilient Accoya®, an acetylated wood product, which brings unprecedented reliability and durability to wood.
Tricoya® top layers provide exceptional stability, durability and paintability, for outdoor applications.
Most configurations delivered pre-hung with a premium prime finish, ready to paint to match your design.
10-year limited warranty with reduced and no overhang applications, depending on system design specifications.
Reserve™ Wood Entry System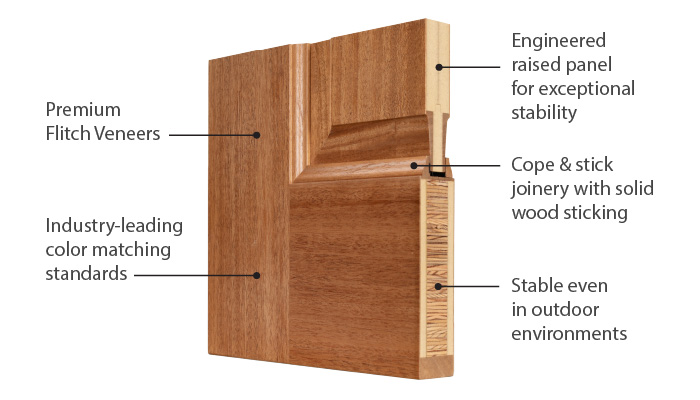 The Reserve Wood Entry System elevates the refined elegance of your home with the beauty of stained natural wood.
10 natural wood species available with an extensive collection of premium factory stain options.
Premium appearance standards ensure industry-leading grain and color matching.
Engineered with a laminated veneer lumber (LVL) core and Tricoya® layers to provide exceptional stability and durability.
5-year limited warranty with industry standard overhang requirements.
Comparison of Resilient™ and Reserve™ Wood Entry Systems

Resilient

™

Wood Entry Systems
Resilient

™

Wood Entry Systems


No Overhang Required

Reserve

™

Wood Entry Systems
Door Styles
Over 500 standard door styles
Over 500 standard door styles
Over 500 standard door styles
Maximum Door Size
42" × 96" single unit
84" × 96" pair unit (42" leaf)
42" × 96" single unit
72" × 96" pair unit (36" leaf)
42" × 120" single unit
84" × 120" pair (42" leaf)
System Layouts
Most options available
ES101 and ES201 only
72" × 96" pair unit (36" leaf)
All options available
Finish
Painted, user applied
Painted, user applied
Factory prime, stained finish or user applied
Overhang Requirements
Reduced overhang requirements*
No overhang requirements*
Standard overhang requirements*
Limited Warranty
10 year**
10 year**
5 year factory primed or finished;
3 year unfinished**
Maintenance
Painted finish should be inspected annually and re-applied as needed
Painted finish should be inspected annually and re-applied as needed
Top coat finish should be inspected annually and re-applied as needed
Dark Finishes / Paint
Warrantied when ordered with
factory multi-point lock
Warrantied when ordered with
factory multi-point lock
Not warrantied for door movement
Wood Screen / Storm Door
Not available
Not available
Available
Sills
Three different sill options available
Hydrosill™
Five different sill options available
Multipoint Lock
GU-Secury Automatic multipoint lock available
GU-Secury Automatic multipoint lock required for pairs
GU-Secury Automatic multipoint lock available