PL410
Application: Interior
Series: Panel Lite (PL) Series
Thickness: 1-3/8"1-3/4"2-1/4"
Panel Lite (PL) Series
True Divided Lites Options
Panel Options
Sticking Options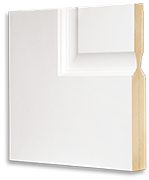 Medium Density Fiberboard (MDF)
At TruStile, we're innovators, not imitators. That's why we pioneered the use of MDF (medium density fiberboard) as a preferred material for painted door applications due to its advantages over alternative materials like natural wood. Since we introduced our stile and rail MDF doors to the market, we have seen many impersonators.
Download our latest catalogs or have one sent to you
with our TruCAD™ Door Design Tool